Bokaka


Profile
Wordplay name
???
Aliases
???
Age
26
Gender
Male
Species / Type
Keronian
Date of birth
???
Occupation
Keron Army soldier
 

Bokaka (ボカカ ,) is a fan-character in the series Keroro gunso. He is a Lance Corporal (兵長, Heichō) of the Korere Platoon.
Character
[
]
Bokaka is an older Keron who is somewhat of a perv and and a geek. Despite his appearance, Bokaka is actually 26 years of age.
Background
[
]
Bokaka doesn't tell much of his past, leaving it a mystery.
Abilities
[
]
Talents
[
]
Is incredibly precise with tools of any kind
Has a vast amount of medical knowledge
Is technically a qualified surgeon
Can do the entire Macarena dance
Can also do the Thriller dance flawlessly
Supernatural
[
]
Has somewhat of a supernatural ability to make scalpels float in place, making surgical operations much less risky.
Strengths
[
]
Incredibly Smart
Has a ridiculous amount of precision when throwing or launching projectiles or other small weapons
Can diagnose almost any medical problem in a short amount of time
Incredible computer skills, and has created the perfect computer defense system
Weaknesses
[
]
Is a pervert
Despite having created the perfect computer defense system to avoid being hacked, Bokaka himself is unable to hack into other systems, no matter how easy they would be.
Has an unknown medical condition that prevents his body from actually aging, leaving him stuck physically in the tadpole stage.
Has no shame. . . at all.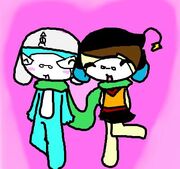 Relations
[
]
Love interests
[
]
himself
Close Friends
[
]
Kikoko
Lesbobo
Cirnono
Rikiki(Was once turned into a pokemon and captured by her along with Ariri, ahh, the good times. except that time was ariri's idea to purposefully do it.)
Shikaka
Deruru/Raxin Sobauki
Minunu
Korere(deceased)
Platoon Mates
[
]
Deruru
Shikaka
Ariri
Korere(deceased)
Enemies
[
]
none yet
Rivals
[
]
none yet
Family
[
]
none(deceased)
Other
[
]
Yadada - Yadada has done things to several Kerons that are far beyond PG-13, so I'm not going to say anymore, however, Bokaka is the only "victim" who has ever turned the tables on her.
About the owner
[
]