Sarara

"Hey~ Whats Up? I'm Sergeant Sarara~"
Profile
Wordplay name
S33
Aliases
???
Age
???
Gender
Female
Species / Type
Keronian/Axolotlian
Date of birth
June 26th
Occupation
Keron Army soldier
 
Sarara (サララ) is a fan-character in the series Keroro gunso. She is the Sergeant (軍曹, Gunsō) and leader of the, soon to be Sarara Platoon.
(Everything is coming soon)
Character
[
]
Sarara has a LOT of personality, but never comes out unless she's with the people that she's close friends with. At first, she might seem a little strange, but she's an awesome person to be around. Once someone get to know her, she might flirt with them a lot, and call them sweetheart, and honey and stuff, that doesn't mean she has a crush on them. Flirting for her is a sign of friendship, but it can also mean she likes them, sometimes they can never tell. She really is a romance person though. Sarara is also a very random, loud and proud kind of person. If there's something that's gotta be said, she's gonna say it. She has no problem telling someone personal stuff, she's very open. She can sometimes be a little perverted. Even though a fun person, she can get REALLY serious if needed and when she's doing her job. She's really mature when she needs to be. She also can get VERY curious, and sometimes finds a deeper meaning into some things, even if it's the stupidest things. She is also a very understanding person, even though gets confused some times. She also knows how to act around certain people. She is also VERY energetic, which goes with her randomness. The rose on her stomach is used to determine her age, but no one really finds that out. She can be found in the forest, at the beach, her base, on the streets, or just relaxing on a random roof or tree.
Statistics
[
]
N/A
Appearance
[
]
N/A
History
[
]
N/A
Childhood
[
]
N/A
Relationships
[
]
N/A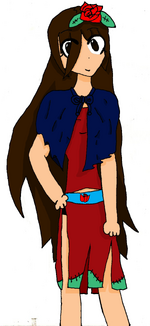 Abilities
[
]
N/A
Strengths
[
]
N/A
Weakness
[
]
N/A
Future
[
]
N/A
Children
[
]
Girls: N/A
Boys: N/A

External links
[
]