Raruru is a fan made character in the Series Keroro Gunso. She is a Sgt. Major and Serves in the Tinana Platoon.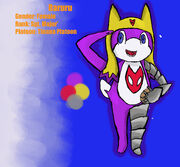 Raruru
Profile
Wordplay name
RLL
Age
24
Gender
Female
Species / Type
Keronian
Occupation
Keron Army
 
Character
Edit
Raruru is a Sgt. Major in the Keron Army. She is partialy a cyborg and specializes in Assassination. Her best friend is Tinana and Is also Tinana's Subordinate. Very cheerful most of the time. Other times she can be most deadly.
Appearence
Edit
She is a Purple Keronian. She wears a Yellow hat with Long Rabbit ears and flaps with purple tufts at the ends. She has a cyborg left arm and left leg made of steel. It does not extend beyond her left limbs. Her eye color is blue. Her symbol is a red cat face with sharp ends. She wears these on the her belly and hat. The hair color under her hat is black but is never shown.
Statistics
Edit
Average Immune System
Blood type is unknown
No known allergies
(will be added later)
Childhood
Edit
(will be added later)
Abilities
Edit
Stealth
Master of Claw Weapons and daggers
Relationships
Edit
Tinana- They have been best friend since Elementary School.
Saroro- Her and Saroro are good friends and she also teaches him some assassination skills.
Tyrara- Fellow Platoon member
Strengths
Edit
Left limbs made of steel
Never fails at being stealthy.
Is great in "lightening the mood"
Weaknesses
Edit
Sometimes overconfient
leaves herself vulnurable on her right side.
Community content is available under
CC-BY-SA
unless otherwise noted.