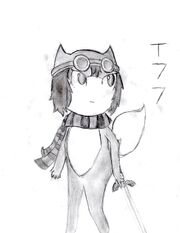 Tinana Platoon is a fan made platoon in the 
Keron Army
and is led by
1st_Lieutenant_Tinana
.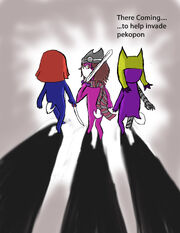 1st Lieutenant Tinana, Leader and Sword specialist.
Private 2nd Class Saroro, Ninja and Ship Navigation Specialist
Tech Oxaceann, Inteligence Officer, Hacker and Weapons Designer
Sgt. K-Chan Close Combat an Weapons Specialist
Temporary Members
Edit
Staff Sgt. Tyrara, Served as a heavy weapons specialist. Given leave when Tinana, Raruru and Saroro were independently selected to patrol the Solar System. Still technically a member but is not included in the comic nor their adventures on Pekopon.
Appearences
Edit
Because they are fan made characters, They will and did not feature in the official Anime or Manga Keroro Gunso. But will feature in a fan made comic by Oxaceann. The Image to the right is a preveiw of this comic. It will not be presented in a format as displayed in the image. But will be shown in a traditional art style. It will mainly feature the Tinana Platoon with apperences from Canon characters in it. It will also be based on their official story. It has not been shown online to date but will in the near future.
Community content is available under
CC-BY-SA
unless otherwise noted.