Tokeke



Profile
Wordplay name
1099
Aliases
Tokeke-chan (by Kururu)
Gender
Male
Species / Type
Saddleback Keronian (Sub-species)
Date of birth
October 5th
Occupation
None
 
Tokeke (とけけ) is a fan-character in the series Keroro Gunso. He is a Senior Private (上等兵 Jōtōhei) in the KTU!Keroro Platoon.
Character
[
]
Tokeke is a generally laid-back Keronian when talking to strangers or acquaintances. Around his close friends, he's bubbly and willing to participate in anything.
Appearance
[
]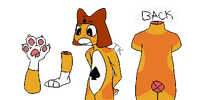 Tokeke is an orange adult Saddleback Keronian. His cap is brown with 'cat ears' and a black Spade symbol on the front. His belly also has a black spade. His eyes are a dark navy blue that appears black at first glance.
History
[
]
Tokeke's childhood on Keron is nothing extraordinary. He entered military training after he left school and was then deployed to Pekopon after training on Keron. Tokeke crash-landed in the Hinata's front yard. From there, he became the Senior Private of the Keroro Platoon.
Relationships
[
]
IMPORTANT NOTICE: THE KERORO PLATOON LISTED ARE FROM MY OWN AU
Keroro: The platoon sergeant. Both have a mutual respect of each other, but they aren't very close.
Tamama: Private second class of the platoon. Tamama and Tokeke get along fairly well, but Tokeke is avoidant of him when he senses jealousy.
Giroro: The platoon's corporal. Both have a mutual dislike for each other and they often butt heads, especially now that Kururu is married to Tokeke.
Kururu: The platoon's sergeant major as well as Tokeke's husband. Before they became a couple, the two first had a mutual respect for each other. Tokeke respected his boundaries from the start, which caught Kururu by surprise. Their relationship blossomed from there.
Dororo: The platoon's lance corporal. Tokeke and Dororo get along great. Whenever Dororo is forgotten and his trauma switch activates, Tokeke tries to comfort him as much as possible.
Abilities
[
]
Tokeke is able to fire eye beams, however, they are fairly low power and easy to predict. He is mostly skilled in melee combat.
Strengths
[
]
Tokeke is fairly strong-willed and has a high pain tolerance.
Weaknesses
[
]
Tokeke has a fairly strong fear of heights, making it hard for him to fight when he isn't on solid ground. He often ends up freezing in place when he figures out how high up he is, even in the middle of combat. Tokeke also has a fear of snakes. He can't focus well, making it hard to stay on task. He tries his best.
Creator's Socials
[
]
| His DeviantArt | His Toyhouse | His FurAffinity | His Steam | His Discord Server | KuruToke Universe |